If you all are anything like me and looking forward to warmer weather, I am sure you're starting to shop for spring clothing and accessories. 🙂 These warm and pastel colors below are really on trend for the upcoming season:

Another trend that will continue to be popular is the military style jacket as seen on Rihanna below:


High-waisted flare jeans are BAAACK! (im excited about this trend, kind of tired of only wearing skinnies lol) Such a classic look. You can wear them with wedge heels and a tucked-in top to look long and lean.


Neutrals and nudes as well as sheer layers have been seen all over the runways for this spring as well. These also follow the "comfy clothing" trend, which I am so excited about!:


Big bangles will also be in style this spring. Seen on Bey below (she happens to be wearing a nude color as well! always so stylish!)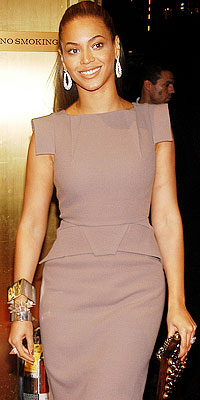 You may see alot of preppy handbags this spring! I love this Nicole Lee handbag! My sissy got it or me for Christmas:


(you all will quickly learn I am obsessed with bags lol!)
***Haven't found any spring 2011 shoe trends that i like just yet…but i will hunt some down! Have a great day loves!